20 Pickup Lines For People Wearing Keyboard Pants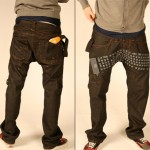 If you haven't heard of them, keyboard pants are sweeping the internet with their newfound fame. BestWeekEver.tv wrote a post with 20 pickup lines for people wearing keyboard pants, these will be helpful in the future if you're wearing keyboard pants and decide you want to look like a total douchebag…not that the pants themselves won't make you look like a big enough douchebag already.
Here are my two favorite pickup lines from the list:
14. What do you say we rearrange the keyboard and put U and I together? Preferably around my crotch area?
19. Pardon the QWERTY nature of my advance, but I can't resist the burning need to SHIFT UP and ENTER U.