Getting A Girl To Return Your Call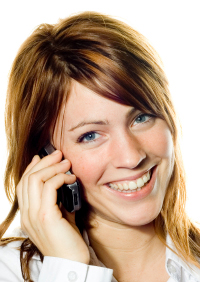 How many of you have left multiple messages for a girl only to have her not return your calls? If you raised your hand (or, even nodded knowingly), you're doing something wrong. The problem is not that the girl isn't calling you back. The real problem is that you're leaving her a bunch of messages. You're basically inviting her to be a flake. And nothing kills attraction faster than allowing a girl to treat you like a doormat.
It's time to regroup and approach the situation like I've been teaching you. First, you need to master the art of leaving a message. Then, you need to make yourself scarce. Let's talk about how to do both.

Get In, Get Out
The fact that you called a girl a number of times with nothing to show for it tells me something: you're thinking about her too much. And believe it or not, if you're desperate for her attention, it'll come through on the message you leave. She'll hear it in your voice. Make your messages short and sweet. Call her and say, "Hey, it's John (or whatever). I'm at 555-555-5555. Call me back." Click. That's it. Not only does that stop you from sounding like a wuss, but it lets her know that you have other things going on. Which leads me to my next point…
Date More Women
It doesn't get any simpler than this. Trust me, if you're going out with a lot of different girls, you won't be thinking so much about just one of them. You won't have the time or energy. Now, imagine that you've got 7 dates set up this week. You call one of them, but it goes to voicemail. Do you think you're going to be worried about that one girl calling you back? Of course not. You have 6 other gorgeous women to spend time with. And chances are, when you're leaving the message, that confidence is going to come out loud and clear in your voice. She'll know she better not wait too long or she'll miss out.
Wait A Few Weeks
Let's say you call once and don't get a call back. It doesn't really matter since you have your hands full with other girls. Even so, why throw the opportunity away if you can easily salvage it. Send her a quick email, letting her know that you'll give her another chance. If you still get no response, wait a few weeks before calling again. That sends a clear message that you're busy and don't have time to play games. Then, let her know as long as she's willing to take you to a nice dinner, you'll forgive her.
If she laughs at your cockiness and calls back, great. If not, move on. Let her play those games with some other guy. You have other girls to have fun with.