How To Make Sense Of A Woman's Mixed Signals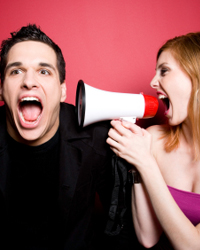 When you've been on the hunt (meeting women) for awhile, you'll notice a general rule of thumb: girls never say exactly what they're thinking. Who knows why? Maybe their emotions get in the way. Maybe they're just cowards who can't stand the thought of actually being upfront with their thoughts. In any case, they're rarely clear.
They either use word puzzles or they send strange signals that they expect you to somehow pick up. Either way, they can be as confusing as hell. But, if you want to be successful with women, it's your job to cut your way through this jungle. So, get out your machete and let's get to work.
From Out Of The Blue…
Have you ever been working on a girl where things looked promising only to have her flake on you or give you the cold shoulder? Talk about mixed signals, right? Most guys beat themselves up over it and spend valuable time thinking about it. But, you should do the opposite.
First, write that girl off. Don't chase her like other guys do. It's a waste of time. If you chase her and eventually land her, chances are she'll be too high-maintenance to deal with. Besides, there are easier targets out there. Don't make the hunt harder than it needs to be.
Here's something else that's interesting. When you stop chasing the flake and write her off, she'll often come looking for you. High-maintenance flakes are usually starved for attention. If you don't lavish it on them, they'll often come begging for it.
Behind The Gentle Let-Down
Here's something that always makes me chuckle. A girl tells a guy she "wants a little space" or "she needs to take some time off." Just in case you don't speak womanese, let me spell it out for you. She thinks you're boring, you're a putz and she'd rather swim in more exciting waters. That's the Gentle Let-Down.
Yeah, she should come right out and say it. But, remember, girls have their own strange language. Also, some men (and I use that term loosely here) actually put the girl in the position of wanting to spare his feelings. How the hell did THAT happen?! What a tragedy.
First, learn to speak womanese. More importantly, learn how to sustain the spark and attraction that landed the girl in the first place. If she's ready to move on and you're not, you haven't done your job very well.
Speaking The Language
Women are going to continue to send mixed signals to guys. They always have and they always will. You can try to train it out of them (good luck). Or, you can learn the language and when to use it to your advantage. Sometimes, success with girls means being upfront, clear and leaving nothing for them to question. Other times, you can use words to send your own signals and plant seeds in their heads. Try it. You may be surprised by the fruit it bears.