Stop Being The Clingy Guy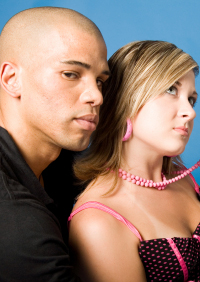 I was hoping we wouldn't have to deal with the topic. It breaks my heart each time I get an email from a guy describing this. Millions of guys have a tough time meeting women and being attractive to them. That's why I'm trying to teach you how to show a cocky edge and a funny side. A lot of you are taking the ball and running with it. I get a rush from reading those emails describing your success.
But, some of you… you're finding that the women you're with are suddenly losing interest in you. More often than not, the thing that's killing the attraction she used to feel for you is that you're too clingy. We've put this topic off long enough. It's not going to fix itself. So, let's talk about how to stop being clingy.
What Makes A Guy Cling To A Girl
To figure out how to stop clinging onto a woman, you need to understand why you're doing it in the first place. There are a lot of reasons, but the most important thing to understand is that it's not as much about the girl as you think. It's usually because you don't want to be lonely. I don't want to get too psychological here, but think for a moment. There are millions of girls who are dying to go out with a guy who's confident, brash and funny. Why on earth would you be lonely? That feeling makes no sense. Get rid of it.
Why Being Clingy Can Destroy Attraction
The worst part of clinging onto a woman is that it destroys any attraction you've worked to build. Remember, being clingy is the exact opposite of being confident. Confidence and leadership create attraction. Clinginess kills it.
When a guy walks up to a girl and he's charming, a little cocky and obviously knows how to take control, most women don't even know how to react. After all, it's rare for them to meet men like that. These type of guys create an instant spark. It begins as curiosity and builds to attraction.
On the other hand, when a guy clings to a girl, it's annoying. There's no mystery or challenge. When that happens, the attraction starts to deteriorate.
Breaking The Cycle
If you're the clingy type, there's still hope for you. But, you have to make the decision to break the cycle. It's not complicated. You just need to show confidence whenever you're around women. They'll pick up on it instantly and gravitate toward you. How do you show it? By making fun of the girl you're with. By taking control, leading and making decisions. These things build attraction. Remember, even if you're in a relationship, attraction ebbs and flows. It's either growing or shriveling. Evict that clingy part of you and focus on being attractive to women.